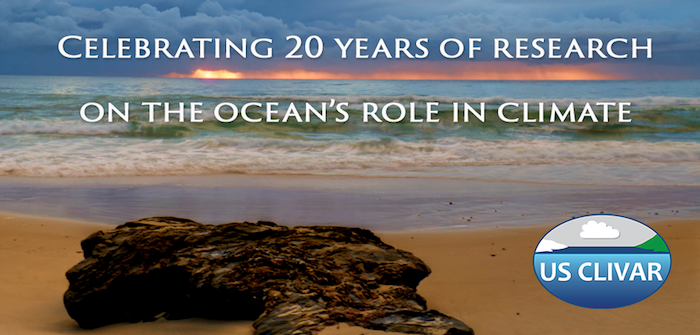 For the past 20 years, US CLIVAR has addressed some of the most pressing research questions to observe, theorize, analyze, model, experiment, and synthesize our understanding of the climate system, particularly the great uncertainties related to the role of the ocean. Collaboration has been essential to making this progress happen. So throughout 2018, the US CLIVAR Project Office, in collaboration with the program's implementation bodies, funding agencies, and partners, hosted events to bring together the community to celebrate the achievements over the years and build momentum for the future.
Follow the conversation using #USCLIVAR20th. 
Evening event at AGU Fall Meeting
On December 13, 2018 US CLIVAR hosted an evening reception with colleagues to celebrate scientific partnerships and the 20th anniversaries of the US CLIVAR and US Carbon Cycle Science programs. 
Town hall at 2018 Ocean Sciences Meeting
CLIVAR's Course: Accomplishments and Future Science Priorities 
Thursday, February 15
12:45 - 1:45 PM
Oregon Convention Center, D135-D136
The town hall featured International and US CLIVAR leadership that showcased accomplishments and progress, while identifying current and future research challenges. 
Evening event at 2018 Ocean Sciences Meeting
On February 15, the US CLIVAR community gathered for an evening reception with food, drinks, and music to celebrate the program and to mingle with old and new friends. 
Testimonials from the community
Read what the community has to say and please consider contributing.