Predicting the duration of El Niño and La Niña events with multiyear lead time
The El Niño-Southern Oscillation (ENSO) phenomenon arises from large-scale interactions between the ocean and atmosphere in the tropical Pacific and influences global climate and weather patterns via atmospheric teleconnections. Historical records show that about 30% of the warm phases (El Niño) and 50% of the cold phases (La Niña) of ENSO can persist for 2-3 years, prolonging their climate impacts. However, these multiyear ENSO events are not predicted in the current operational ENSO forecasts, which generally predict the future state up to 12 months.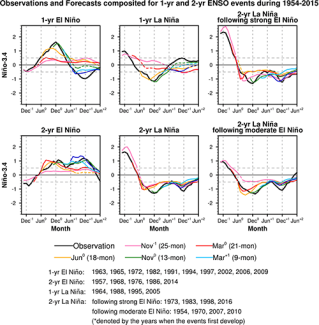 A new study by Wu and co-authors in Journal of Climate shows that the duration of individual ENSO events during 1954-2015 can be predicted up to two years in advance using a suite of multiyear retrospective forecasts conducted with the Community Earth System Model version 1, a climate model that well simulates the statistical and dynamical features of the temporal evolution of ENSO events. The authors compare three sets of ensemble forecasts that are initialized with observed oceanic conditions in March, June, and November to explore the maximum lead time of predictability and the seasonal dependence of forecast skill. 
Both El Niño and La Niña typically develop in boreal spring-summer and peak in winter. The forecasts initialized in November near the first peak of El Niño and La Niña can skillfully predict whether the events terminate or persist through the following year with a lead time of 13 months. The predictability arises from the initial thermocline depth anomalies in the equatorial Pacific and sea surface temperature (SST) anomalies in the three tropical ocean basins and the North Pacific, which affect the timing and magnitude of delayed negative oceanic feedback and ocean basin interactions. Multiyear La Niña events preceded by strong El Niño are predicted with the longest lead time (25 months), owing to large adjustments of the equatorial Pacific thermocline and interbasin SSTs associated with the preceding El Niño. The forecast error growth, on the other hand, mainly arises from atmospheric variability over the North Pacific in boreal winter. These mechanisms controlling the duration of El Niño and La Niña events in the retrospective forecasts are consistent with the results of diagnostic analyses and "perfect model" experiments shown in previous studies by the authors.
The high predictability of ENSO event duration indicates the potential for extending the operational ENSO forecasts for up to two years for selected initialization months. Multiyear ENSO forecasts can provide a new basis for the prediction of multiyear climate impacts, such as persistent drought in the southern US and widespread flooding in Australia during multiyear La Niña events. 
Written by
Xian Wu, National Center for Atmospheric Research